Resubscribe Today
Visit the App Store or Google Play to get started.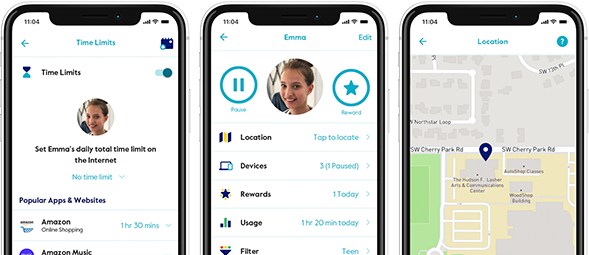 ---
Features
Filter
Circle has both Kid and Teen Filters (and more) built in to match your family's needs. Filters are fully customizable for each family member's Profile letting you decide which apps and websites are allowed and not allowed.
Usage
Monitor your family's online screen time. Compare online behavior to yesterday, last week or last month. With Usage you can see how much time your family is spending on different websites and apps.
History
Get a detailed view of the sites each family member visits throughout the day across every connected device.
Time Limits
Worried about kids spending too much time with one game or app? With Time Limits parents decide how much (or how little) family members should spend on certain websites, games or apps.
Bedtime
Make late-night scrolling a thing of the past. Set an internet Bedtime for each family member's devices (yes, yours too!). You decide when each Profile should disconnect from the Internet.
Focus Time
Create a customized screen time schedule that benefits everyone in your family. Preset time offline for the important moments like practicing piano or dinner with the family.
Pause
The internet now has a Pause button. With a quick press of one button, the internet stops and you have your family's full attention. Parents can Pause a single Profile or the whole house.
Location
Keep track of your family's mobile devices. Enable location services and track mobile devices (and your kids) wherever they go.
Rewards
Grant extra online time when chores are complete or good grades are earned. With Rewards parents can extend Time Limits, disable an Focus Time, or give a later Bedtime.
Safe Search
Safe Search defaults Google and Bing searches to remove explicit content from their results.
Every Device
Whether tablet, smart phone, or gaming console, Circle knows every device connected to your home network.
Guest Devices
Circle even recognizes when a guest joins your Wi-Fi. All new devices are set to be unmanaged until assigned to a profile.
Unmanaged
Circle also gives you the choice to not manage a device or profile through the Circle App.
Notifications
Receive push notifications when a family member reaches a time limit or when a new device joins your network.
Internet Security
Circle makes your family's Internet more safe and secure by identifying network intruders and blocking adult and malicious sites.